NFL Super Bowl 2020 Preview: Kansas City Chiefs vs San Francisco 49ers : Who Lifts the Vince Lombardi Trophy on Sunday?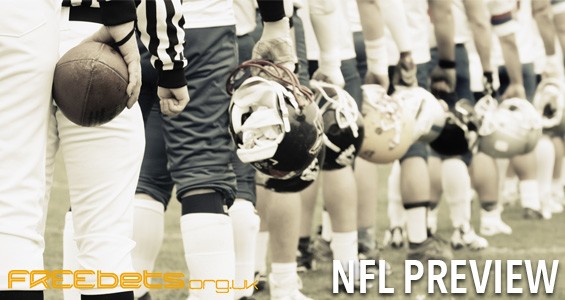 VENUE

Miami, Florida, USA

TIME

11:30pm

BROADCAST

Live on BBC1 & Sky Sports
See Stats
NFL Super Bowl 2020 Preview: Kansas City Chiefs Vs San Francisco 49ers
The greatest show on earth takes place on Sunday evening in Miami, Florida. The 2020 Super Bowl features the Kansas City Chiefs and the San Francisco 49ers, with one of those franchises taking home the Vince Lombardi Trophy for wild celebrations over the summer.
For those looking to place a bet on the Super Bowl this year, we have a range of excellent Super Bowl free bets available on our dedicated Super Bowl betting page to get you started.
The game offers a fantastic contrast in skills, which makes this a great matchup. The Chiefs are here thanks to the heroics of Patrick Mahomes, a player who would become the second youngest quarterback to win a Super Bowl with success on Sunday. He has been crucial to his teams play all season, but especially in the playoffs, and with the 24 year old running their offence, the Chiefs could well be set up to not only win this weekend, but to win multiple Super Bowls over the next decade.
The 49ers have an offence that is often overlooked, because their entire game is built on having a fantastic defence. They have been electric this season, and that has all started with their defensive players making big plays and getting the offence on the field in good areas. They have an excellent run game, while quarterback Jimmy Garoppolo is aiming to win a Super Bowl title as a starter after sitting on the sidelines behind Tom Brady to pick up two Super Bowl rings with the New England Patriots.
Super Bowl Preview
In different ways, the Kansas City Chiefs and San Francisco 49ers were both very impressive on Championship weekend. The Chiefs had to fight back and show their ability to change a game, turning things around against the Tennessee Titans to come out on top. That takes adversity, a never say die attitude and confidence in your own ability, three features of the team as a whole, and in particular Mahomes.
The 49ers have been the ultimate professionals, taking charge of the game early and gaining full control of things. They were excellent in the first half against the Green Bay Packers, nullifying the threat from Aaron Rodgers with great defensive play and making the Packers play by putting points on the board.
Two different and unique styles of play, but who comes out on top on Sunday night?
As good as the 49ers have been this season, and in particular over the past two weeks, we are struggling to go against Patrick Mahomes in a big game. He looks made for these, learning from the difficulties of handling the big occasion last season. The feeling you get from him is that no matter how big the hill is in front of him, he has the ability to climb it. In that respect he is reminiscent of a prime Tom Brady, who has carried the Patriots on his back at times to take them to Super Bowl victories.
Mahomes has the ability to do exactly the same, and with a supporting cast of genuine talent sprinkled around him, he is fancied to pick holes in the ultra tight 49ers defence and take his Chiefs onto victory.
The 49ers need to get at the Chiefs early to try and dominate them and put them on the back foot, although Kansas will be used to that from their past two playoff games. However, without being disrespectful to the Texans and Titans, they are nowhere near the same level as the 49ers, who have far more chance of holding onto a lead.
When at their best, the 49ers are in front, maintaining possesion and making big stops on the defensive side of the ball. It will be a fascinating matchup to see Mahomes trying to work out their defence and beat them, which would be the toughest test of his career. We think he will overcome it though, he is a special talent who looks set to burst out as a worldwide superstar this weekend with his performance in the Super Bowl while the eyes of the world are on him.
Get odds of 4/5 on a Chiefs win with William Hill
PLEASE NOTE: This article expired on 3rd February 2020 and is now for reference only.
Any odds quoted are at time of writing and will need to be checked by you on visiting the bookmaker's website.
18+. Terms & Conditions Apply. Please Gamble Responsibly.
Back To Top
Statistics
Patrick Mahomes would become the second youngest quarterback to win a Super Bowl if the Chiefs win on Sunday
Jimmy Garoppolo has two Super Bowl rings as a backup, and is looking for his first as a starter
The Chiefs are here thanks to a 35-24 win over the Tennessee Titans in the AFC Championship game
The 49ers beat the Green Bay Packers 37-20 in the NFC Championship game