UK Championship Snooker Betting Preview : The Rocket can topple Trump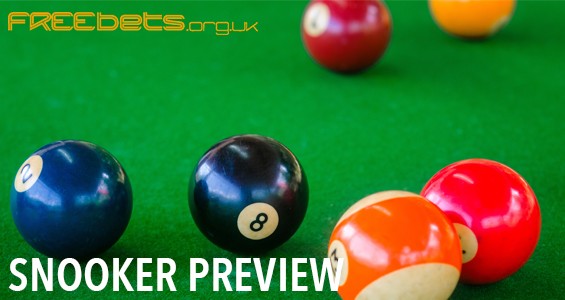 VENUE

The Barbican Centre, York

TIME

26 Nov - 8 Dec

BROADCAST

Coverage on BBC and Eurosport
See Stats
The first Triple Crown event of the snooker season is here as the world's best head to York for the UK Championship, with an enormous £200,000 on offer for the winner at the Barbican Centre.
The season so far has set this tournament up to perfection, with a number of players looking in good enough form to challenge, but with one man dangerously ahead of the chasing pack.
Trump is top of the pile right now
That man is Judd Trump, who is ruling the roost as world champion, world number one and the man playing the best snooker right now. The 30-year-old fulfilled his enormous potential in Sheffield in May when he won his first world title by battering John Higgins into submission. Then came the question as to whether he could keep up this level of performance where many first time world champions have failed in the past? He has answered that in the most emphatic of ways, winning three ranking titles since that Crucible triumph.
The Juddernaut has claimed the International Championship, World Open and Northern Ireland Open already this season, beating Ronnie O'Sullivan in the final of the latter. He has been thoroughly impressive and is undoubtedly the best player on the planet at the moment.
However, as good as Trump has been, he has not been unbeatable. Yes he was won three events this season, but he has failed to win four more that he has entered, with O'Sullivan, Mark Selby, Neil Robertson and Shaun Murphy picking up that quartet of titles.
Trump has got to the point that he is the favourite in every match he contests, but he is not completely impenetrable. He has lost to Lee Walker, Joe Perry, Mark Allen and Robertson this season, especially over a short format, he can be vulnerable. The UK Championship is not the shortest format on the calendar, but best of 11 frames all the way to the semi-finals is still pretty rapid and gives lesser players a good shot.
The world champion appears to be operating on another plane at the moment, but for him to win this tournament would be an historic achievement. It would give Trump all three Triple Crown titles at the same time, which has only been done by four men before – Stephen Hendry, Steve Davis, Mark Williams and John Higgins. Of course he is capable of matching them, but it is a rare feat indeed.
As is winning three titles on the spin, as is Trump doing particularly well at the UK Championship. The Bristolian has won the event before, but in 11 visits to the tournament, he has only been to the quarter-finals twice. Form might be with the world champ, but history is not.
The Rocket always fires in York
On the other side of that same coin is Ronnie O'Sullivan. The Rocket might not have been playing at his absolute best, but he has a sensational record in this event, winning it seven times, more than any other player. In each of the last four UK Championships he has entered, O'Sullivan has reached the final, winning three of them, his only loss being to Mark Selby in 2016.
The five-time world champion has been a bit hit-and-miss so far this season, starting it in style by winning the Shanghai Masters, but has not won an event since. He looked good at the Champion of Champions but fell in the semi-finals to Neil Robertson, and succumbed to Trump in the final of the Northern Ireland Open.
Throughout those events the Rocket has spoken of not quite being match-sharp, or he has moaned about the venue, or has claimed he was just not that bothered about winning. None of things can be said about Ronnie at the UK Championship. He has played more than enough snooker now this season, more than most after his run to the final in Belfast. He enjoys it in York and has absolutely no complaints about the Barbican. He will probably still claim that he isn't that fussed about winning, but it is not true, he set the record for Triple Crown titles at this event last season and he brings up those 19 majors quite regularly, he would love to add another one to his CV.
O'Sullivan plays it cool these days, but he will not like that fact that Trump has taken his spot at the pinnacle of the sport and seemingly has the edge over him in finals. Judd has beaten Ronnie in three finals over the last year or so, and the Rocket will have had just about enough of that.
If Trump can win this title then we are officially in his era, the records he can break and things he can achieve are almost hard to fathom. This would be such a huge leap, though, that history is against him. While the Masters might be O'Sullivan's spiritual home, the UK Championship is really his tournament, especially in recent years.
Robertson, Selby and Murphy are all contenders too, but the Rocket is well worth backing for yet more success in York.
Back To Top
Statistics
Ronnie O'Sullivan has won the UK Championship more than any other player (7)
O'Sullivan has reached the UK Championship final in each of his last four entries into the tournament
The Rocket first won the UK Championship in 1993
Judd Trump has won the UK Championship once, in 2011
Only twice has Trump been to the quarter-finals at the UK Championship
O'Sullivan has been to 17 UK Championship quarter-finals
Shaun Murphy, Mark Selby and Yan Bingtao have all won ranking events this season
Only three men have won the last seven editions of the UK Championship – O'Sullivan, Robertson and Selby
O'Sullivan has won more Triple Crown titles than anyone else (19)
The Rocket can become outright leader in ranking event titles with a win, currently level with Stephen Hendry on 36
Topical Feature Lists
If you fancy a break from the serious side of betting, take a look at our Topical Feature List for a bit of a giggle.
Click Here To View The List »
Download Our App


CLICK HERE TO GET THE APP »
Betting Blog
View our latest sports articles in our betting blog
Read Our Blog »