Bet365 New Customer Welcome Bonus Offer
What is the Current Bet365 bonus offer?
The latest latest Customer Welcome Bonus from Bet365 is an Initial Deposit Bonus of 100% up to £200.
This can be available to you by clicking through FREEbets.org.uk on the links below and you'll have your initial deposit matched by Bet365 in the form of a welcome-type of free bet, all the way up to this gigantic £200!
How do I claim my Bet365 bonus offer?
Just click on the link below and read the Terms & Conditions on their site and if you're comfortable with them, accept them to continue and open a new account.
Once your account is up and running, you'll be sent the 10 digit Bet365 Bonus code to the email address which you registered with, which you'll need to claim it.

Make your first deposit of £10 or more.

Select Members from the Services Menu > go to Offers

Enter your promo code. Bet365 will then match your initial depositing amount, up to £200.

You will then have to play through the deposit, meaning only once you have placed bets amounting to your deposit of up to £200 will the bonus amount be released to your account.

You must then play through the deposit and bonus three times before any related winnings are eligible for withdrawal.
For example: Join and make an initial deposit of £200 – enter your specialised promo code sent to you by Bet365 and you'll have a 100% of £200 added to your account, it's that simple.
The promo code must be entered within 7 days of the qualifying deposit.
Go to bet365 to claim your £200 Initial Deposit Bonus
Terms & Conditions – To bet with your newly-gained extra budget, you must play through the amount of your qualifying deposit once
on any sporting market of your choice. Prior to making a withdrawal, you must roll-over your deposit & bonus three times.
Full general terms and conditions can be found on their website via the links below.
How do I place a bet with Bet365?
Well, placing your bets is very straight forward - They offer all the same betting options that you have available at a normal online sportsbook, but they are also able to bring something new called "In-Play" betting. This new feature will allow you to do the following things:
• First of all you get the chance to place live bets – this way even if the game has started; you are still able to place bets, depending on the performances of the teams so far.
• Get off your bets during a game – in case you have placed some bets and the team has shown nothing so far, you can get off a bet during the game.
• Watch it Live service – that offers you the chance watch the game via bet365 live streaming.
One of the striking things that you will notice initially is the fact that everything is extremely simple, including the design and the site navigation.
This is probably one of the things that have managed to push this online sportsbook forward. They have a betting platform which seems to be able to satisfy all sorts of bettors, including the recreational and the professional sport bettors.
They have a solid financial background since they are one of the largest bookmakers in the UK and indeed the world. In addition to the classic sports betting you can also find: live bets (called in-play on their website), financials and skill games and an online bingo hall.
What range of betting markets do Bet365 offer?
To an extent they do offer a good range but a slight criticism is that they don't offer more special markets such as picking a team's top scorer or which manager is likely to be sacked next - those type of unusual bets seem to be lacking on the site. In terms of viewing odds it is very simple and clear how to switch between decimal, fractional and the American view if you so wish and of course the odds when you head over to the casino side of things are much the same as anywhere else.
Overall, whilst Bet365 don't necessarily push the boat out when it comes to the quirky odds market if you want a solid, well-run and incredibly good at what it does online bookmaker then this website is definitely the place to be. All of the major sports are covered by this bookmaker as well as a number of minor ones.
Bet365 Mobile Free Bet
If you're betting on the move, new and existing customers are now rewarded with a 100% welcome bonus when placing you first bet using mobile or tablet up to £50.
Simply place your first bet of £1 or more on your mobile betting device, and they will give you a 100%, matching your stake up to £50.
Is There A Free bet with Mobile Betting?
Most definitely - Yes! Whether you're a new or existing customer, you'll receive a 100% bonus, similar in fashion to the free bonus as it now called, when you place your first bet using a mobile or tablet, up to £50.
If efficiency and ease of use is what you're after then their mobile betting is an absolute stick-on for betting on the go. Near enough everything from the main site is transferred to the mobile platform and its just as straight forward to navigate around and use. Signing in, depositing and withdrawing is predictably easy and a very swift process.
Aside from the sports betting markets, also on offer is a casino site on the mobile product and its very impressive and similar to the sports betting site, very simple to use. They have clearly put an awful lot of time and effort into their mobile casino and you can tell as its incredibly slick. Its hard to find fault with their mobile site to be honest, even down to entering promotional codes and dealing with change of cards etc... It is almost easier on the mobile platform than on the laptop/desktop version.
Bet365 also offer an app to download, and although this is a slightly longer process on getting started it too is extremely well designed once you have it installed and up and running. The same can be said about the app as the mobile site, no frills but very easy to use and effective. It is just personal preference as to whether a customer prefers to have the app ready to go on their home screen or opening up their mobile browser and then head to the site. As with many things in the online betting world, this giant brand was one of the early pioneers in taking their product onto a mobile site and they do it as well as anyone.
Live Streaming?
Did you know that Bet365 were the first bookmakers to offer free Online Streaming of live sporting events? Its fair to say that they set the benchmark which other bookies have tried to emulate but if its experience and reliability in a sports streaming service you're after then these guys are pretty hard to beat.
The UK based company provides plenty of sporting events from around the world for their customers to enjoy with an incredible 30,000 plus events shown live each year through them. One of the big plusses about their service is that customers don't need to bet on an event to view it - as is the case on other bookie sites. As long as a customer has a funded their account (minimum deposit of only £5.00) then they can watch any of the live events on offer on the site.-
Do Bet365 Offer Customer Support?
They proudly offer an excellent customer support service, powered by a friendly and knowledgeable team. Send them an e-mail and they will answer you in a short time. But the greatest revolution is happening at the phone support, since there are more than 120 countries where they are able to offer 24/7 toll free support. Make sure that you check out the list on their website. In addition to all that, there is also a Live Chat feature available on their website and a call back service.
They are able to provide arguably the best customer support service in the online sports betting industry.
What is the history of Bet365?
Bet365 is currently the 7th largest private company in the UK, even if they are only employing just over 1,700 people. And it's no wonder that this is happening since they are currently available in more than 200 countries and they serve 6 million bettors. Bet365 has come a long way from it's humble beginnings in Stoke-on-Trent to its present status as one of the most important players in the online sports betting market worldwide. This is why you will see the Stoke City Football Club emblazend with the bet365 logo as the main sponsors of the club.
They have been around for a very long period of time, with the first sports betting shop opening back in 1974. The online bookmaker was launched back in 1998, a moment in history where online gambling and betting was just beginning to rise. They are able to stand out from the crowd due to the fact they can deliver both quality and trust at the same time.
The online sports betting and financial betting is licensed and regulated by the UK Gambling Commission, but the other ventures are regulated and licensed by the Government of Gibraltar. There are no longer any bet365 free bets due to the terminology of the offer needing to be more correctly represented around the world.
Get Betting Offers
Get the latest exclusive offers on bookmaker free bets as they happen - It's private & FREE!
100% Privacy, We will never spam you
Get exclusive offers
Videos
More videos »
Kev Lard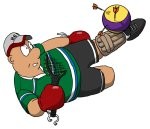 Kev Lard - Comic Strip
Click here to see Kev »
Topical Feature Lists
If you fancy a break from the serious side of betting, take a look at our Topical Feature List for a bit of a giggle.
Click Here To View The List »
Betting Blog
View our latest sports articles in our betting blog
Read Our Blog »