NBA Previews W/C 05/03 : Who can stop Houston?!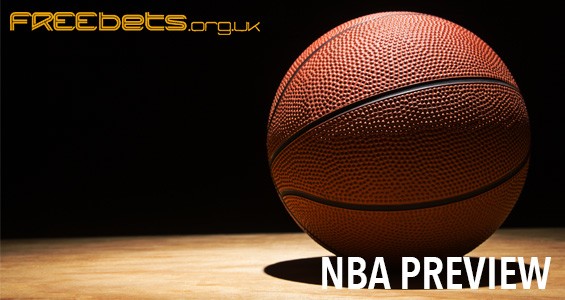 The NBA playoff picture has now officially taken shape and with just under six weeks left in the season we are truly at the business end for a lot of sides. While many fans would have thought the Cleveland Cavaliers and the Golden State Warriors would be the two conference champions, neither franchise sits atop of their respective sides of the NBA and the Houston Rockets - currently on a 15-game winning streak - and the Toronto Raptors are the current first seeds. With just under twenty games left, who will make a late run for the playoffs and who will take the Mark Cuban approach and tank in a bid to land a great draft pick this summer? Expect plenty of the latter with this draft class expected to be one of the best in recent years. However, for some franchises that have been rebuilding for years or have traded away their draft pick, they need to make a solid run at making the top eight and that will play a big role in tempting free agents in the summer.
Wednesday - Rockets @ Thunder
What a matchup this is. The Rockets have won 15 games on the bounce and Mike D'Antoni, far removed from his terrible time with the Lakers a few years ago, has really got Houston playing a spectacular brand of basketball. James Harden and Chris Paul are the undisputed best backcourt in the league right now and any concerns about who would dominate the ball are long gone. Harden is dropping a league-high 31.2 points a night while CP3 is dishing 8.1 dimes a game. Armed with fine shooters around them and the gritty Clint Capela inside, Houston could well go all the way this year.
For Oklahoma, they go on good runs and then they have bad runs. With a record of 6-4 in their last 10 games, it shows how Russell Westbrook, Paul George and Carmelo Anthony can heat up on any given night, but if one is missing they don't have the depth to cope. Steven Adams is another fine option in at the five spot. But while Westbrook hasn't quite hit the same levels as last season, they are still in the playoffs. However, they are only 1.5 games ahead of the L.A. Clippers in ninth. Rockets win.
Get odds of 1/2 with Betfair for a Rockets win (£100 free bet)
Thursday - Cavaliers @ Nuggets
LeBron James and his Cleveland Cavaliers look an exciting unit but they definitely have their own teething issues. For instance, Lary Nance Jr and Jordan Clarkson have shown their qualities on some occasions with their athleticism and scoring, but they have also shown their not used to the pressures of playing for a winning side and the consistency that takes. Being 8.5 games back from the top spot could put them in trouble in the playoffs, but they'll safely make it there.
As for Denver, they currently reside in the eighth seed in the Western Conference but they are just 0.5 games ahead of the Clippers and 1.5 ahead of the Utah Jazz. It's ultra-tight there and many would fancy the Jazz to swoop through and secure that berth, but with Nikola Jokic playing out-of-his-mind at the pivot and Gary Harris scoring well from the backcourt, Denver may have enough. Cavs win.
William Hill are offering odds of 1/2 for the Cavaliers to win (£30 free bet)
Friday - Spurs @ Warriors
With LaMarcus Aldridge and Kawhi Leonard in the lineup, this is a really, really competitive matchup. With both of those All-Star players injured at the moment, the San Antonio have a record of 3-7 in the last 10 games and have fallen to fourth in the west. Tony Parker has been rocking the bench recently too and Gregg Popovich, while undoubtedly getting the most out of the unit he has, is up against it.
For Golden State, they have won five in a row and with their full complement of All-Stars in Stephen Curry, Klay Thompson, Kevin Durant and Draymond Green they are easily the best starting five in the league. Curry is averaging 26.7 points a game and Durant is packing 26.1, so competing with the Warriors' attacking form is something Spurs can't handle right now. Warriors win.
Warriors are available at 2/9 with Paddy Power to win (£20 free bet)
Saturday - Wizards @ Pelicans
Washington have been a side that many felt would be a strong Eastern playoff team for a few years now, but now that John Wall, Bradley Beal and Otto Porter Jr are the core three of the team and entering their primes, Washington have so many options. Ego tends to get in their way above all else; problems between Wall and Beal have surfaced in the past and recently Wall had issues with center Marcin Gortat. Maybe Wall's the common denominator.
New Orleans were flying this year with DeMarcus Cousins next to Anthony Davis, but the twin towers were shit down with Boogie was struck down with a bad Achilles injury. They have won eight games in a row though and that has everything to do with just how special Davis is - he's been killing it. In the last 10 games, the Brow is averaging 32.7 points, 2.5 blocks and 13.7 rebounds. That's a joke. Pelicans win.
William Hill are offering odds of evens for the Pelicans to win (£30 free bet)
Sunday - Pacers @ Celtics
The Indiana Pacers have been a plesant surprise this season after losing perennial All-Star Paul George last summer and they currently find themselves in fourth place in the east. If they managed to finish there, it would be their highest finish since finishing top four seasons ago. Myles Truner has blossomed at the center position and Victor Oladipo seems like a lock to win the Most Improved Player award, but how far can they go?
The Celtics looked like they had the top spot secured in the east in the early going with their outrageous early run and the acquisition of Kyrie Irving has made everyone around him better. Look at Jaylen Brown and Jayson tatum; two young men that are thriving and playing their part on a winning team. With Al Horford more than playing his part too, Boston are dangerous.
Get odds of 1/3 with Betfair for the Celtics to win (£100 free bet)
Back To Top
Statistics
James Harden leads the league in scoring with over 32 points a night
The Houston Rockets are on the biggest win streak in the league at 15 games
The Golden State Warriors have won five games in a row
The Cleveland Cavaliers are nearly eight games back from the top seed in the east