NBA Previews W/C 19/03 : Can Houston cement top spot?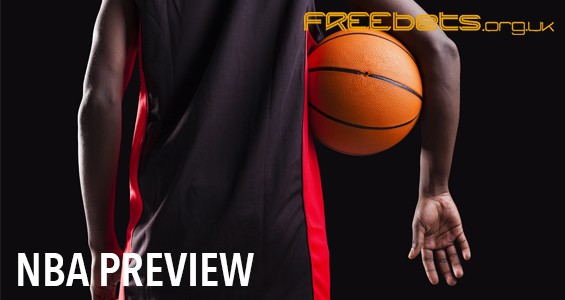 A lot happened in the last week. Both the Boston Celtics and the Toronto Raptors both lost at the top of the Eastern Conference, the Memphis Grizzlies finally won a game at the bottom of the west and the Portland Trail Blazers are on a serious tear from almost out of nowhere. Their winning run stands at 13 that has seen Damien Lillard and co. surge to third in the Western Conference. Also in the west, an intriguing battle for the final playoff spots is underway with just 2.5 games separating the Utah Jazz in fifth and the Los Angeles Clippers in 10th. There is only 12 regular season games left and the postseason - and the draft - is starting to become a whole lot clearer. Who will make a late play to upset the odds and play this summer?
Tuesday - Warriors @ Spurs
The Golden State Warriors are a shadow of the team they can be right now and it's literally all down to injuries. Stephen Curry and Klay Thompson have been missing sporadically for a while and Kevin Durant is the latest to hit the injury table. They can't afford to lose KD for any kind of team; the offensive juggernaut carried the Warriors past the Lakers last week and without him and the Splash Bros, it's a totally different team. The only redeeming feature is that San Antonio are missing players as well, so which system will win out?
Gregg Popovich has been dealt a bad hand all season long. Kawhi Leonard is a two-time Defensive Player of the Year who is, arguably, the best two-way player in the league not named LeBron James. The Spurs have not had Leonard for all but nine regular season games and that same quad injury will prevent the small forward from playing the Warriors. LaMarcus Aldridge has also missed recent games but will return to face the NBA Champions. His matchup against Draymond Green will likely decide the outcome of this matchup, so does Popovich have a plan? Spurs win.
Get odds of 23/10 with Betfair for a Spurs win (£100 free bet)
Wednesday - Thunder @ Celtics
Oklahoma have been very stop-start this season but when they are hot, they are hot. Russell Westbrook has been dropping triple-doubles like that is the norm recently and went off against Toronto Raptors and put up 37 points, 13 rebounds and 14 assists in a fantastic road win to take their recent run to six on the bounce. Carmelo Anthony remains a potent scorer when he gets hot, but his average of 16.7 a night is the lowest of his career. Westbrook and Paul George see the ball more, but the results say it is working on a team level.
Boston started the season like a house on fire (I've never understood why that is a good thing) but they have slowed as the season has dragged on. It seemed like finishing above the Cleveland Cavaliers was all they needed to do to get top spot in the east, but they have now found themselves five games behind Toronto in the race for the top seed. Still, with Kyrie Irving and co. you simply can't rule them out. Celtics win.
William Hill are offering odds of 1/2 for the Celtics to win (£30 free bet)
Thursday - Clippers @ Bucks
When you lost Chris Paul and Blake Griffin in the space of six months, there is no franchise alive that would cope with those losses without breaking stride. Los Angeles have got some nice pieces to play with; Lou Williams is one of the best pure scorers in the league while Danilo Gallinari and Avery Bradley are great assets. However, their only star is DeAndre Jordan, and he doesn't have the offensive tools to carry them.
The Milwaukee Bucks fell to the Cleveland Cavaliers on Sunday, but they are still in a decent position when it comes to the playoff picture in the east. The Detroit Pistons are six games back from the Bucks in ninth spot and if Eric Bledsoe and Jabari Parker can support Giannis Antetokounmpo they'll be force in the postseason.
Bucks are available at 2/5 with Paddy Power to win (£20 free bet)
Friday - Lakers @ Pelicans
The Lakers were one of the best teams in the NBA after All-Star break until last week. Now, Luke Walton's men have lost three games in a row and they are begging for Brandon Ingram to return from his nagging groin injury. Lonzo Ball and Isaiah Thomas continue to have troubles scoring but in other news, Julius Randle is playing absolutely out of his skin ahead of restricted free agency.
Before DeMarcus Cousins went down injured, the Pelicans were challenging for the third spot in the west. They are now one of four teams with 40 wins this season who sit inside the playoffs and Anthony Davis can carry them to where they need to get to - the postseason. With the Lakers slipping, they'll pick a win up here.
William Hill are offering odds of 1/2 for the Pelicans to win (£30 free bet)
Saturday - Timberwolves @ 76ers
Minnesota have been a nice surprise this season. Well, not so much a surprise because Tom Thibodeau is a world-class coach and with players like Karl-Anthony Towns and Andrew Wiggins, progress was inevitable. Still, add in Jimmy Butler, Derrick Rose, Taj Gibson Jamal Crawford and Jeff Teague to the mix and there is no doubt the Timberwolves have a deep playoff roster. The fact they have won 40 games this year supports that and they'll only get better.
The 76ers are much like the Timberwolves in the sense that their side's best years are ahead of them. Joel Embiid, Markelle Fultz, Dario Saric and Ben Simmons are a fantastic young core that also features the veteran scoring of JJ Redick. Philly are 8.5 games clear of Detroit and therefore are virtually a lock to make the playoffs, but can they handle Minnesota?
Get odds of 21/20 with Betfair for the Timberwolves to win (£100 free bet)
Back To Top
Statistics
The Portland Trail Blazers have won 13 games in a row
The Atlanta Hawks have lost six games in a row
James Harden leads the league in scoring with 31 points a night
The Houston Rockets are three games clear at the top of the west
The Toronto Raptors are five games clear at the top of the east